Shop by Brand
Your Basket
Notice
All images are &copy books-and-records.com. You may use them as long as you provide a link back to this site.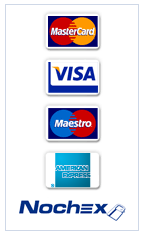 Apply For A NOCHEX
Merchant Account
To date we have
shipped products
to these countries:
Australia
Austria
Belgium
Canada
Chile
Czech Republic
Denmark
France
Germany
Greece
Hong Kong
India
Ireland
Italy
Japan
Malaysia
Malta
Netherlands
New Zealand
Norway
Philippines
Poland
Russian Federation
Serbia
Singapore
Slovakia
Slovenia
South Africa
Spain
Sri Lanka
Sweden
Switzerland
Turkey
USA
Viet Nam
This week's Top Picks...
Privacy Policy
You may freely browse our site without giving out any private information. However, if you decide to purchase an item, sign up for any service, refer our site to your friends or require updates or additional information etc you are asked for some of your personally identifiable information. Please read below which information we may need to render you the service you want. Please also refer to our section on the Use of Cookies (opens in a new window).

The Information We Collect

This notice applies to all information collected on the above websites (books-and-records.com), or submitted to the above at any time through any Service Pages. Personally Identifiable Information— may include your name and contact information, gender, birth date, occupation and industry, shipping information, behavior patterns, purchase history and other information. We do NOT collect or store credit card or other banking information. We collect prospect information, which may include name and contact information of individual(s) you think would be interested in our services. For Affiliates or Partners, the information we collect may include your name and contact information, your site's category, your website information (URL, visitors per day, page views per month, services offered), payment information (cheque payee), and user-comments.

Aggregate Information—We collect non-identifying and aggregate information to better design our website and services, and share the aggregate data with advertisers and other third parties.

Each of the Affiliates or Partners has access to information specific to their site only. Each Affiliate will determine what it will do with the collected information; however, each Affiliate or Partner has individually agreed to abide by this Privacy Policy and Terms of Use Agreement.

Note: the above mentioned information necessary for your Partners means our Partners, ie Storesprite, who supply the script our site is built with and NOCHEX, whom we use as secure merchants and banking Partners in case you buy an item from us. Their connection and billing procedure is 100% secure, and you don't need to be afraid of any disclosure. These Affiliates or Partners do NOT store the information you give them. They guarantee your Privacy. You can learn more at their respective sites.

Collection of Personal Information from Children under Thirteen

We do not allow children under the age of thirteen (13) to register for any services.

The Way We Use Information

We use the information you provide about yourself or others to complete the transaction for which the information is intended. Such transactions may include administering a service, such as email, search, community, advertising sales, ecommerce, completing an order, shipping a product, replying to support requests (via our Live Help service) or contacting you if you have granted us permission to do so. We do not share this information with outside parties without your permission except to the extent that is necessary to administer the services we offer our Affiliates or Partners.

From time to time, we also use the information you provide about yourself or others to inform you of additions or improvements in our services. When supplying name and contact information, you can indicate your preference to receive or not receive information and updates about Affiliates' or Partners' services or special offers from other companies, programmes or other registration processes.

We may also use personally identifiable End-User information to provide targeted content and commerce opportunities to End-Users based on their demographic and behavioural information.

Finally, we never use or share the personally identifiable information provided to us online in ways or for reasons unrelated to the ones described above without also providing an opportunity to opt-out or otherwise prohibit such unrelated uses.

Online Support Forum

When using the online "Support" forum of our website to post your questions and/or comments, you will be asked to indicate your name, email address, and message. When posting your message, your name, email address, and message are publicly displayed and available to anyone who may visit those pages on which you have posted your questions and/or comments.

Our Commitment to Data Security

To prevent unauthorized access, maintain data accuracy, and ensure the appropriate use of information, in co-operation with our Affiliates or Partners, we have put in place appropriate physical, electronic, and managerial procedures reasonably designed to safeguard and secure the information we collect online.

In addition, personnel who have access to our database are trained to maintain and secure all information.

How You Can Access or Update Your Information

Affiliates or Partners, you can access all your personally identifiable information that we and the Affiliates or Partners collect online and maintain by logging into your password-protected account and selecting to update your "Profile."
If you have submitted information on our site but do not currently have an account with us, you can access and correct the information that we collect and maintain by contacting us.

To protect your privacy and security, we will take reasonable steps to verify your identity before granting access or making corrections to your information.

How to Contact Us

Should you have other questions or concerns about this privacy policy, please contact us by email at bob(at)books-and-records.com

Advertising Sales Specific Terms and Conditions

We sometimes work with third parties that serve ads to our network of sites. These third parties may use the demographic and/or behavioural data provided by Affiliates or Partners to deliver relevant, targeted advertisements to the Partner Site. This demographic and behavioural data is obtained and maintained in a manner such that no connection can be drawn between the profiles supplied to the third parties and the End-User's personally identifiable information.
At any stage you have the right to ask us to stop using your personal data for direct marketing purposes. You can opt-out at any time by logging into your account, then clicking on Newsletter Preferences and choosing the NO option under Mail Preferences. This will opt you out of all marketing emails.

Conclusion

# You should be aware of the fact that by using our website you agree to our below Terms and Conditions of Use, AntiSpam Policy and FTC Rules.

# By subscribing to any Ezine or Newsletter we may publish now or in the future you expressly request to receive a regular issue and agree to in-house and third party advertising contained therein.

# We adopt a strong anti-spam policy, 100% guarantee privacy of our users, clients, subscribers and visitors.

# We never store any of the data we receive on any third party's servers or storage means - exclusively our own.

# We archive all service subscription requests.

# BOOKS-AND-RECORDS.com sticks to 100% anti-spam rules and comply with the latest international legal acts ie California Anti-Spam Law coming into force on 1st Jan 2004 and EU law in effect since 31st Oct 2003.

If you feel that your inquiry has not been satisfactorily addressed by this Privacy Policy, you can contact us at:

Telephone: (44)(0)1980 621634

Postal address:
12 Imber Place, Tilshead, Salisbury, Wilts SP3 4SE, United Kingdom

Electronic mail:

# Webmaster: bob(at)books-and-records.com